Bed Bugs Pest Control

At ease in moist, well-heated rooms, bed bugs suffer and die out if hit by high and low temperatures. In particular, these parasites are sensitive to temperatures above 40 ° C. Although this type of intervention fits well only for the reclamation of mattresses, carpets, upholstery, carpeting.
Infestations of bed bugs is among the most difficult to eliminate. Pest control is via the pesticidal treatment for beds, pillows, mattresses, curtains, carpets and baseboards, cleaning up the environment needs technical and specific measures. The only truly effective solution is in fact implemented by specialized technicians that by taking actions that can solve the infestation of bed bugs in a definitive way.
The company's engineers have specific entomological knowledge and a proven field experience as well as proven scientific methods. Just contact us to arrange inspection visits and propose a series of measures that are final, ie that the intervention will eventually lead to the definitive elimination of bed bugs.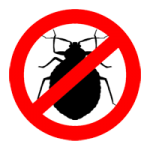 Before you choose which pest control company to entrust, rate its skills and certifications carefully.
Ligur Control provides highly qualified technicians, thanks to a constant update with respect to the trend on the weeds and the best disposal systems.
Ligur Control guarantees:
Licenses and certifications that demonstrate that the treatments are carried out according to the highest industry standards.
Belonging to the category of associations recognized as ANID (Associazione Nazionale Italiana Disinfestatori) guarantees the professionalism of your interlocutors.
Transparency – complete honesty and transparency regarding the cost, the level and duration of treatment required will help you evaluate the reliability of the company.
Competence and experience – a pest control company established by experience over time is a guarantee of professionalism.
Dark/black spots – on the mattress and the surrounding area caused by the droppings of bed bugs.
Sweetish odor – an unpleasant odor, sweet, cloying.
Little dark balls – balls of dark blood on the bed linen known as "fecal pellets".
Live insects – despite the bedbug is small, it is possible to identify.
Bloodstains – on the sheets or on the mattress.
Structure and cracks in the headboard
The mattress seams
Carpet and underlying coating
Between the planks of the wooden floors
In the cracks or damaged plaster cracks, behind wallpaper in bad state
In electrical sockets and accessories
Drawers and lockers
Wardrobes
Nightstands
Insect that shuns the light and leave the nest only during the night hours, the bedbug feeds on human blood and is attracted by body heat, carbon dioxide emissions and odors from the skin. Identified the victim, the bedbug injects its anticoagulant saliva, assumes a quantity of blood equal to about 5 times the weight of his body and finally back to hide in a safe place.
Safe Intervention
Controlli svolti in sicurezza a norma di legge
Timely and Efficient
Interventi rapidi a norma di legge e con risultato garantito
24/24 Support
Sempre disponibili a prender in carico le vostre richieste